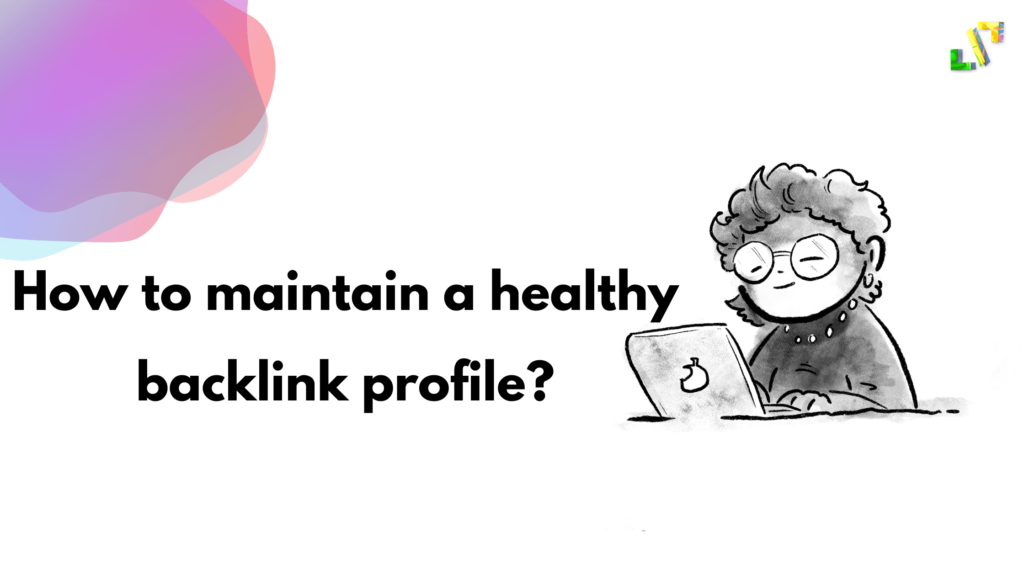 If your SEO efforts have been fruitful so far and your site satisfies all the structural, content, and visibility criteria necessary to achieve high rankings in search engine results pages (SERPs) and increase site traffic, what's next?
If your strategy has involved clever link-building techniques in the past, you'll want to keep your backlink profile in good shape. Besides, you don't want your hard work to be for nothing. With the respect and authority you've earned, that is.
Toxic and spam links may be avoided with the same amount of work put into reaching out to reputable, high-quality sites and convincing them to link back to you.
In today's article, we'll demonstrate how to analyze your link profile and keep your backlinks in good shape.
What is a backlink profile?
To sum up, a website's backlink profile is the whole shebang of links that point to it. Features of the links themselves, such as their kind, anchor text, referring domain quality, topical relevancy, etc., are included.
How do you know if your link profile is good?
Maintaining a clean link profile is difficult. Optimal backlink profile health depends on a number of parameters, similar to keyword ranking, but the fundamentals are:
‍To Google and the other big search engines, it's a red flag if all the link love going to your site comes from the same place, or if you have a lot of links that all lead to the same page. Your site might be penalized if, for instance, many of your backlinks originate from comments you've made on blogs or social media.

Diverse Anchor Text – Using the same anchor text to link to your website is another reason for a penalty. Varying your choice of keywords and phrase search terms is always recommended. Use of the same term many times in a single paragraph makes the writing seem rigid and artificial.

Top-Notch Referring Domains – You may compare backlinks to "votes" for your website. If you want to improve your site's search engine rankings, you should focus on getting links from authoritative sites, rather than random blogs. Websites like news and academic resources are considered authoritative.
When analyzing your website's link profile, Google will penalize you if the bulk of your links originate from irrelevant sources. For example, if your business is focused on selling cookware, it makes sense to have links to your site from other sites that are also in the same niche (e.g., food and drink, housekeeping, etc.).
Link profile analysis- how to do it?
There is an abundance of search engine optimization tools that can evaluate the value of each link referring to your site. Ahrefs, for instance, may help you save time by gathering information such as backlinks and keywords. In contrast, MOZ gives you a more in-depth look of your link profile by calculating authority, mage link metrics, and incoming links.
It's not only the less reputable sites that have to deal with spam links, however; even the more reputable ones do. We can't escape them. But if the quantity of these bad connections becomes too large, you'll have to take action to get rid of them.
Gaining a large number of links quickly might also send up red signals with search engines, leading to a punishment.
There are blogs that use programs to automatically copy your site's material and post it on their own. As a sort of reference, they leave a hyperlink to you, but this is really just a trap. Blogs that often recycle old posts are frequently dismissed as spam.
It's also important to see whether the brand has a history of poor link building practices. To obtain links, content farms, guest blogging, and link swaps were all acceptable tactics. Such link-building strategies now have the potential to damage search engine rankings. Those ties must be severed as well.
You may avoid being penalized for having poisonous links by submitting a disavow list of them u
Retaining a strong link profile
Years ago, websites were easily swayed by the promise of low-quality link building's rapid returns on investment. Others were forced to resort to paying links to shrewd webmasters who were eager to monetize their extensive web of blogs.
In addition to disavowal, consistent outreach may help you get high-quality connections. There are easier methods to have a pristine link profile if the prospect of outreach makes you want to draw your sword (what with the time and work it entails!).
Making information that is succinct yet fresh
 Inspiring, informative content is still a valuable tool in the link-building arsenal. The material you post on social media platforms (like Facebook, YouTube, Twitter, Spotify, etc.) may serve as a link back to your site. Infomercials, podcasts, expert interviews, tutorials, and so on are all examples of contemporary media forms with a sizable audience. If your articles are good enough, other popular sites in your field may take them up and link back to you.
Brand Partnerships/Sponsorships
When a company works with similar businesses and lends its support to similar causes, it gains backlinks. Brand awareness may be boosted and your firm can be presented as one that cares about and contributes to the greater good by sponsoring local events and activities and forming strategic partnerships with other companies that provide products and services that complement your own. Digital resources (social media, press releases, announcements, etc.) advertising the event or the organization may provide backlinks.
Including Notable Individuals from Competing Brands
Find influential members in your community and create mini-biographies about them to spread the word. These folks must have knowledge that interests others enough to read about and talk about on social media. If you're fortunate, they'll post your story on their own social media accounts, and it may be picked up by reputable news or syndication sites as well.
Catapult Brand Demand with Strategic Content Marketing​
Having a content-first approach helps you to create the authority in the sector and generate demand for your brand.
Contact Our Content Manager Now
An important aspect in search engine rankings is a site's backlink profile, which should be clean and healthy. Every once in a while, you should do a backlink audit to identify and remove potentially harmful inbound links. Stay in Google's good graces with regular link profile evaluations, disavowals, and the strategic purchase of high-quality links.
SOJY is a Growth Marketing Strategist with proven expertise in Marketing Psychology, Performance marketing and SEO with over 7 years of experience in the industry. With a passion for helping businesses grow, he has a track record of success in developing and executing innovative marketing strategies that drive growth and ROI.